AccoladePOS Enterprise™



AccoladePOS Brings Ordering Consistency
Our enterprise solution is unlimited, with scalable expansion capabilities and an ergonomic layout delivering fast and reliable order entry with minimal key strokes. Four built in caller ID ports per terminal enable an auto search of your customer database and provide past and recent order history.
The AccoladePOS Make Line
AccoladePOS powers up to six make line stations with multiple kitchen printers and item designated routing.
Pizza orders are sent to the pizza make line!
Cold sandwich orders are sent to the deli table!
Salad orders are sent to the salad station!
Delivery with AccoladePOS Assign and Deliver
With the comprehensive delivery tracking system, orders are conveniently displayed and assigned to drivers. A complete cashiering system accompanies this module, providing customer check tracking, coupon tracking and driver advances or deposits.
AccoladePOS Offers a FULL Back of the House
AccoladePOS family of Point of Sale systems provide flexible configuration. integrated applications with up to the minute inventory control, purchasing, product control and accounting functions. A simple to operate interface allows you to make changes and instantly verify the new menu operations. Support for multiple tax methods, discount options/programmable discount tables, multiple revenue center reporting, and a coupon builder, are just a few of the outstanding built-in features.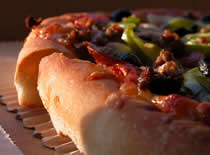 A truly comprehensive system!
AccoladePOS Enterprise™ brings together: