Showcase
Customer Spotlight: Abo's Pizza in Greeley Colorado
Abo's Pizzerias
With 26 years in the business and 15 existing locations, Abo's quality is well known throughout the Colorado Front Range. Serving only hand tossed Neapolitan New York Pizza, with the highest quality ingredients, fresh cut mushrooms, onions, green peppers plus olives and pineapple tidbits, Abo's pizza has become famous for is distinctive sauce, custom blended 100% mozzarella cheeses and authentic New York Neapolitan dough. In addition to the standard items available at the Abo's Greeley location, you will find sub sandwiches, wings, salads, chicken tenders, asiago/provolone cheese balls, and, for a true Italian desert, fresh Italian Ice to finish the genuine Italian experience.
The Solution
In search of a software solution that could accommodate the unique needs of an enterprise like Abo's, owner Herb Sanabria selected AccoladePOS Enterprise. Mr. Sanabria discovered, as many do in the process of selecting a vendor, that most programs are either too big or too small for a mid-sized pizzeria.
After a thorough evaluation, Abo's selected Accolade Technologies' POS solution because it addressed the needs of his business and offered extensive capabilities that he could leverage as the business grew. At the Abo's Greeley location, they rely on AccoladePOS for all business operations – from order entry for dine-in and take out as well as delivery functions. Abo's Greeley also leverages the powerful multi-kitchen printer capability which allows them to better manage the work flow for specific types of orders. Additionally, looking to the future Abo's will have the opportunity to implement the built-in customer tracking and loyalty programs the Back of House administration module offers as well.
Pleased with the solution that Accolade could provide, Mr. Sanabria took advantage of the Accolade C.O.T.S or "Commercial off the Shelf Server" support and looked to Dell Computer for his hardware needs. After advice from Dell Support he chose to move forward with state of the art Dell opti-plex low profile workstations with Elo Graphics touch screens, MMF cash drawers, and Epson Thermal receipt and label printers. Local Accolade staff in Colorado assisted Abo's by installing the AccoladePOS Enterprise software, which ensured full operation from day one.
Configuration
1 ordering terminal, 1 receipt printer, 1 make line touch screen monitor, 1 make line printer (for back up in case receipt printer or make line monitor goes down), 1 delivery touch screen, and a back office desktop acting as the master server for all three stations.
| | |
| --- | --- |
| | Order Entry Terminal: Abo's uses a main terminal for order entry with an Epson TM-88 III as a receipt printer and for customized coupons for patrons. |
| | Pizza Make Line: At the far end of the counter, is the Pizza make line printer. With the AccoladePOS Multi-Printer feature you can designate items to be made and route those orders to specific printers. In this application only "Pizza Orders" are sent to this printer. Of course, in the event of a printer failure this printer can also be used as a receipt printer. |
| | Make Line Monitor: The make line monitor is used by the kitchen to receive incoming orders for alternative menu items aside from pizza such as: wings, sub sandwiches, garlic bread, salads, cheese sticks, and Italian Ice. |
| | Delivery Terminal: Abo's uses a delivery terminal that offers dual functionality. The terminal can be used as a 2nd order terminal strictly for delivery orders during high call volume periods, or when high traffic dine in periods occur. Other functions include: assigning orders to various drivers, driver reconciliation, delivery order tracking, and driver time clock login and logout. |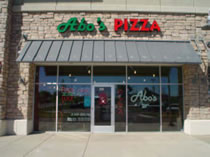 Abo's Pizza
4626 Center Place Drive
Greeley, Coloardo
Owner: Herb Sanabria