Solutions
Fits Your Specific Needs
AccoladePOS is extensible. That means it will grow with you, never becoming obsolete or inadequate. We designed that functionality into the software from the start. Simply select how you want to operate from the many configuration choices, and go. From a simple ordering and cashier station configuration to a fully capable delivery system with multiple video make lines, inventory, purchasing, employee hour keeping, and superb reporting and marketing, you use the same software, without additional charge. We make it simple and keep it simple to do just that.
Advanced Features Included in Every System
You will especially like our advanced features, included in every system. With built-in Caller ID, marketing, coupon builder and control, you easily stay in contact with your customer for repeat business generation. Advanced reporting means you get and inside out view of your business operation with nothing left to chance.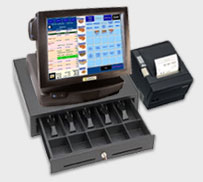 Accolade solutions are bundled with the best hardware. The Viper 2.5 delivers exceptional value, power, and reliability.